Read part 1: 3 reasons to practice with the Forex Simulator (but NOT on a demo account).
Read part 2: 3 benefits of offline practice with Forex Simulator (NOT available on any demo).
Practicing Forex trading can be very time-consuming, especially if you use a demo account. A solution to that problem is using the Forex Simulator software.
In our previous example (see the part 2) we showed how efficiently you can use your time in offline practice with the tool.
Now, we can make all the essential benefits of the offline simulations also available in live practice – with the Simulator's most sophisticated and innovative feature – Timeshift.
Timeshift makes it possible to vary the data speed in real time. So, e.g. any interruption during your online practice is no problem any more:  you just put the live data feed on hold and resume later from exactly where you paused it.
On the rest of this page we will explain in detail how exactly Timeshift can improve our user experience and save us (real!) time. For that, we've elaborated our previous example from part 2.
But before starting with the example, watch Timeshift in action in this short video.
How Timeshift Works In Online Forex Simulator
Our previous example began with waiting for your boarding in the airport lounge and using the Simulator (no time to waste!).
You are practicing in real time. You see a winning trading setup. You open the position using one-click trading. Now you need to think about the stop-loss and take profit levels. This moment your old college friend calls you. It happens that he is also flying today and uses the same lounge. He invites you to have a chat over a cup of coffee – you haven't seen each other for quite a while.
Without Timeshift, your practice would have been ruined. But with the Timeshift you don't have to worry at all! You click Record – button and now you can spend time with your friend.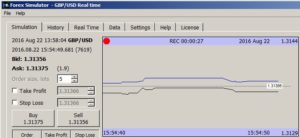 Half an hour later you wish him a safe flight, and you still have time before the boarding. You get back to your practice. You click Play – button, and the simulation resumes from the next tick after you started recording. The only difference is that now you are half an hour behind the current market situation. The time is literally shifted! But this doesn't bother you at all – as long as you are not watching real-time market charts.
You continue from where you left: placing your stops. After some time you notice that the market action is slow. You decide to fast forward your recording and click 2X – button. Then you try forwarding even faster (4X). After some time your time shift has already reduced from 30 to 10 minutes. And the market is still beating the bush around the levels where you placed your order.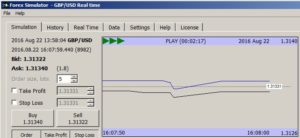 Think about that. Timeshift just gave you back 20 minutes of your time! If you didn't meet your friend, you would have spent all this time watching the price action on the monitor. Now, you spent time socializing and after that you managed to catch up a lot – without losing anything!
Now the market starts moving and you switch back to the normal speed playback. You are still 10 minutes behind the current market. You monitor the situation closely for some time and decide you can fast forward again. But the same second you hear your boarding announced. You decide to pause.
Here's another main point. Even though you can't concentrate on practicing now, you can still be online for quite some time! So you don't turn off your laptop and click on Record – button again. All the time until you lose the Internet connection the Simulator stores the price data.
Eventually you have to switch the laptop in the airplane mode. But before you do that, you managed to store another 40 minutes of market data. So now, you are 50 minutes behind the current market. During the flight, having finished your lunch, you take your laptop and proceed with your practice from where you left it. Now, you are lucky to practice uninterrupted for all the recorded time.
But again, you fast forward dull moments whenewer you can, so eventually when the Simulator reported the end of the timeshift buffer, physically you only spent about half of it. The Simulator again gave you another 20 minutes as a gift. Which you can use to practice offline with the market data files you downloaded at home. Or for anything else, of course.
But here is where the most interesting part starts. Before you turned off the laptop, you clicked Save – button and stored the online simulation status for later. After the landing, once you go online again, the Simulator fetches all the price data that you missed during the flight! So while waiting for your connecting flight, you can load your saved online simulation and resume it from where the data ended during the flight.
Oops! Here we need to apologize. We got carried away. This latest chapter in not implemented yet. But it is on the roadmap and will be supported later. Stay tuned!